HIPAA for Organizations
HIPAA Compliance For Organizations
HIPAA compliance for an organization revolves around protecting the privacy and security of Protected Health Information (PHI) that the organization has or will have access to. PHI is any information that can be connected to an individual's health condition.
Organizations looking to comply with the HIPAA regulations first have to determine which regulations they have to comply with. There are two distinct and separate regulations under HIPAA:
safeguards for keeping protected health information safe from a people, administrative, and contractual standpoint
safeguards for keeping protected health information specifically in electronic form (computers, networks, email, software, electronic transmissions, etc) safe from disasters, hackers, and electronic theft.
All organizations are required to comply with the HIPAA Privacy regulations, since Privacy involves safeguards from a people standpoint, but only those who store or transmit protected health information electronically are required to comply with the HIPAA Security regulations which is meant to protect electronic data.
Once you know which regulations you need to comply with, then it is just a matter of knowing what you need to do to comply.
What is involved in becoming HIPAA compliant?
There are 3 parts to HIPAA compliance for an organization:
1. Providing a HIPAA Awareness Training to all employees of the organization that have access to PHI
2. Implementing formal documents and controls for the organization to protect and safeguard PHI
3. Training of a compliance officer (someone in the organization that is going to take responsibility for HIPAA at your organization)
Part 1 is handled through our organizational training which allows you to roll out training to your employees as a self paced online training that they can each take at their own schedule. Our system trains, tests, and generates a 2 year certificate for compliance record keeping.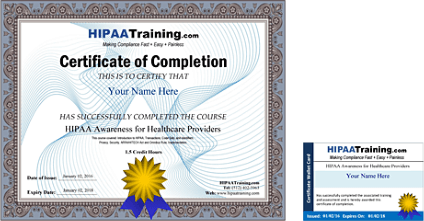 HIPAA Certification + Wallet Card
Each employee receives their own HIPAA certificate and wallet card immediately online upon successful completion of the training
Parts 2 and 3 are handled by our compliance documentation kits. At the same time your designated compliance officer is implementing the required documents, we are also training them through a "hands on learn by doing" approach. The theory behind our method is if your compliance officer built it, they will be able to maintain it going forward.
To learn more about our organizational compliance offerings, simply start by selecting a version from the "Choose Your Version" boxes below. The version will depend on the type of organization you are trying to get HIPAA compliant.